The Good, the Bad and the Ugly on the Oscar Nominations 2015.
Movies, at their best, have the ability to raise the issue of diversity in a positive way and challenge our thinking - think To Kill a Mockingbird, Crash and Brokebank Mountain as examples. So, whilst it pains me to write this blog, I feel compelled to do so.
Currently film has been a trigger for diversity (specifically race) conversations in the wrong way with negativity about a black Annie, a black Bond and black stormtroopers; and there've also discussions about whether able bodied actors should play disabled characters. And the biggie...
The internet has been full of comment about the 'All white' Oscars acting and directorial nominations with Jessica Chastain making an impassioned speech about the matter of #OscarsSoWhite quoting:
http://www.independent.co.uk/news/people/jessica-chastain-makes-emotional-plea-to-hollywood-to-fight-against-racist-agendas-following-all-white-oscars-nominations-9982237.html
And that's the
'good'
. Social media gives us a voice (not always kindly eg in the case of Annie and Bond) that when used well, can ensure collective views are heard. And its also good (great actually) that people are frustrated by the lack of (visible) diversity on the list.
The
'bad'
about the situation is the list itself. And it's not just about no black actors, it's also that there are no women on the Directors list (no nods for Angelina Jolie or Ava) for example.
I'm sure Ava DuVernay, would not want to be recognised simply because she is a black woman, she would want be recognised if the belief is that she did a great job making a movie. And given that the film 'Selma' is nominated for 'Best Film', we have our observation about that.
But the
'ugly'
in my opinion is how the race of Cheryl Boone Isaacs as President of AMPAS seems to be being used to dismiss the issues raised. Her position does not change the historical or 'institutional' issues, or the fact that the movie industry is not reflective of the society it seeks to entertain.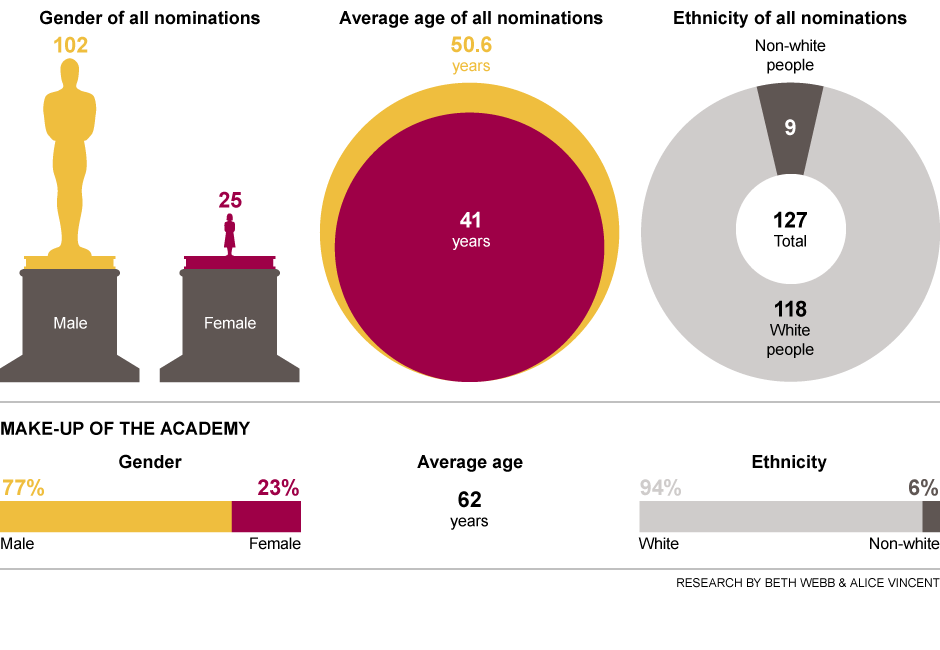 I will always argue that diversity is
not
solely about the differences of race, gender, religion, disability, sexual orientation etc. For example, you could be looking at three white females but there'd still be much diversity in terms of age, sexual orientation, marital status, religion, not to mention a host of different behavioural styles.
Diversity is about different people being not just represented but respected, treated fairly and their differences embraced. Is this how you see it?
However, there is no getting away from the fact that it's soul destroying to look at the Oscar nominations and have to recognise that 'the system' as it stands is biased towards middle-aged white males and that it has not moved on to reflect wider demographics.
Could the 'charges' be levelled at your organisation?
Thanks for reading, I'd love to hear your thoughts!
Contact me using the 'Contact form' above right

Follow me at: @DamsonHR

Call direct on: 07887 643807

LinkedIn: Denise Sanderson-Estcourt, FCIPD